News


< Back
Sarbanes Oxley : Technology : Business Process Management
Business Process Modeling Notation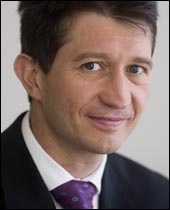 Antoine Lonjon
Director, Methodology and Standards
Mega



MEGA International will extend its current support for the established Business Process Modeling Notation (BPMN™) standard and incorporate the latest version in its MEGA Modeling Suite of business process and enterprise architecture modeling tools. Company executive Antoine Lonjon has played a leading, active role in the BPMN project, an Object Management Group™ (OMG™) initiative.

In December 2007, the OMG reached an important milestone in the standardization of process modeling. Along with the BPMN standard, the OMG's task force on the BPDM Business Process Definition Metamodel (BPDM) project released a complete language that defines the semantics of process models. Business process modeling now has a robust foundation based on a standardized graphical notation and a common language that bridges the gaps between dozens of existing business process modeling languages, tools, platforms, and methodologies. The initiative also provides an XML schema to ensure standard interchanges between the various business process modeling tools on the market.

The BPMN standard can be readily understood by both business and IT users, who have differing roles in business process design, modeling, and implementation. It can improve the coordination of business processes within enterprises, which has grown extremely complex among business analysts and modelers, enterprise architects, technical developers, and business managers. The standard will contribute to the alignment of business and IT, and reduce the gap between user requirements and IT implementations.

By selecting the MEGA Modeling Suite that incorporates the latest BPMN standard, organizations can:

share business process information in a standard manner, making it easier for business and technical groups to communicate;
ensure interoperability between tools using process modeling, such as those for business performance optimization, business process management (BPM), and SOA implementation, regardless of vendor;
re-use any model for future implementation using third party tools; and
improve understanding of the organization's business processes to enable better decision-making and align business and IT processes.

"MEGA International has long been an active leader in the development of BPMN standards," said Fred Cummins from EDS, chair of the Business Modeling and Integration Domain Task Force at OMG. "Their expertise in business modeling has greatly helped the efforts to create a unified metamodel for business process."

Lonjon, director of methodology and standards at MEGA International, is a long-term member of the OMG Business Modeling Task Force, whose mission is to develop specifications of integrated models to support management of an enterprise. Lonjon and other MEGA International staff have played leading roles in various standardization efforts to deliver a solid foundation to process modeling, including ebXML, the BPMN project at the Business Process Management Initiative (BPMI), and the process modeling initiative at the OMG. MEGA was an initiator of the BPMN project at the BPMI, before the latter's merger with the OMG in 2005.

The latest version of the OMG BPMN standard will be fully implemented in the MEGA Modeling Suite.
The following features will be included:

unification of business process notations for the three process model layers that characterize MEGA International's added value on process modeling:
business process for value chain analysis;
procedure for organizational processes analysis; and
workflow for analysis of processes within IT systems.
enhancement of traceability between process layers. With the concept of process delegation, users can keep track of how business tasks are delegated to IT systems;
unification of terminology to ease the dialog between the various stakeholders of process modeling.
MEGA International (www.mega.com) is a privately-held company providing enterprise architecture, business process analysis, and governance, risk, and compliance solutions, with 45,000 software licenses worldwide. The company is consistently ranked as an industry leader by Gartner and Forrester. Clients include AT&T, DirecTV, Enterprise Rent-a-Car, Morgan Stanley, NASA, Nissan, Wyeth, and the US Departments of Homeland Security and Transportation.