People in The News


< Back
Sarbanes Oxley : Auditing
Institute of Internal Auditors Names Richard F. Chambers New President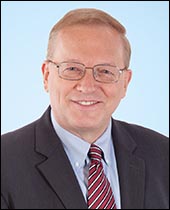 Richard Chambers
President and CEO
Institute of Internal Auditors



The Institute of Internal Auditors (IIA) has announced that Richard F. Chambers, CIA, has been tapped to assume the position of the global professional association's president. Chambers will succeed David A. Richards, CIA, who is retiring after serving as president since 2004.

Chambers was IIA vice president of the Learning Center from 2001 through mid-2004, prior to joining PricewaterhouseCoopers, He brings to his new post at The IIA's helm 33 years of internal audit, accounting, and financial management leadership.
"We are thrilled that Richard Chambers has accepted the offer to lead our professional association," said IIA Chairman Patty Miller, CIA. "He is passionate about The IIA, the profession, and our strategic objectives for the future. He has gained the respect of his peers around the world, as a consummate professional and thought-leader. We look forward to his leadership in 2009 and beyond, as we move toward our profession's future."

In regard to Dave Richards' retirement, Miller said, "We are very grateful to Dave not only for his vision and leadership since becoming IIA president in 2004, but also for the many contributions he made in his previous roles as IIA Chairman of the Board and a dedicated volunteer leader. He has made tremendous progress in furthering the goals and reach of our organization, and he will be missed by our staff, volunteers, and members he has supported so well."

"I offer my congratulations and complete support to Richard," said outgoing IIA President Dave Richards, "I am committed to a smooth transition in leadership of The Institute and will work closely with him over the coming weeks."

Chambers expresses great enthusiasm about his new post, "I am honored and humbled by my appointment to such an important leadership role in our profession. Having dedicated my entire professional life to internal auditing, I look forward to the extraordinary opportunities that lie ahead. I am excited about following in the footsteps of Dave Richards and others who have achieved so much in the global advancement of the internal audit profession."

Biographical Background
In 1976, Chambers began his career with the U.S. General Accounting Office, where he first became an internal auditor. He firmly established himself in government internal auditing and was named Worldwide Director of Internal Review for the United States Army in 1993. He later served as Deputy Inspector General for the United States Postal Service and Inspector General for The Tennessee Valley Authority. In 2001, Chambers joined The IIA staff as vice president, Learning Center. After a brief tenure as "acting president," he left The IIA in 2004 to join PricewaterhouseCoopers, where he most recently served as national practice leader, Internal Audit Advisory Services.

Throughout his career, Chambers has served on numerous boards and panels, including the U.S. President's Council on Integrity and Efficiency, the City of Orlando Florida Audit Board, and The IIA's Internal Audit Standards Board.

Chambers earned a BBA in Accounting from Georgia State University; an MA in International Relations from Salve Regina University; and an MBA from Georgia State University. In addition to being a Certified Internal Auditor (CIA), Chambers' designations include Certified Fraud Examiner (CFE), Certified Government Audit Professional (CGAP), Certified Government Financial Manager, and Certification in Control Self Assessment (CCSA). He has served in various leadership roles at The IIA since 1994.

The IIA is internationally recognized as a trustworthy guidance-setting body. Serving members in 165 countries, The IIA is the internal audit profession's global voice, chief advocate, recognized authority, acknowledged leader, and principal educator. The IIA sets the International Standards for the Professional Practice of Internal Auditing (Standards), and provides other timely guidance related to internal control, information technology auditing, risk management, and internal auditing's role in organizational governance.