People in The News


< Back
Sarbanes Oxley : Law : Arbitration
Leading International Arbitration Lawyer Edward Schorr Joins Baker Botts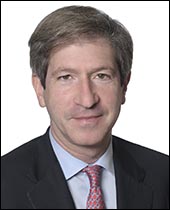 Edward Schorr
Partner
Baker Botts


Baker Botts has enhanced its global International Arbitration practice by adding highly regarded arbitration lawyer Edward Schorr to its New York office. Schorr joined the firm as a partner.

This enhancement of the arbitration practice in New York broadens the firm's ability to provide clients access to skilled arbitration counsel in jurisdictions around the world. The firm's arbitration practice has consistently earned high marks from ranking publications such as Chambers, Legal 500 and Who's Who Legal.

"The skills in this area of the law that Edward Schorr brings to our firm establish our New York office as a new cornerstone of our arbitration practice to which clients can turn with extreme confidence for resolving disputes favorably in key markets around the world," said Baker Botts Managing Partner Andrew Baker. "We are pleased that Edward chose to join us at this time and place in his careers and the life of our firm."

Schorr has more than 25 years of international litigation experience. Edward Schorr together with Andrew Behrman have developed a destination practice as go-to international lawyers. As first chair lawyers, they handle claims before U.S. courts and foreign tribunals in many sectors, including especially the energy and technology sectors, two of the firm's core strengths.

"Edward and Andrew's international arbitration skills have been tested in some of the most complex matters around the world," said Michael Goldberg, co-chair of Baker Botts' International Arbitration practice. "Their addition to our global arbitration practice augments the high level of expertise that our clients expect of a law firm with our history and stature in the arbitration world."

Schorr was a partner at Hogan Lovells prior to joining Baker Botts. He earned his law degree from Stanford Law School and his Bachelor of Arts degree from the University of Pennsylvania.

Additional information about the International Arbitration practice at Baker Botts

About Baker Botts L.L.P.
Baker Botts is an international law firm of approximately 700 lawyers practicing throughout a network of 15 offices around the globe. Based on our experience and knowledge of our clients' industries, we are recognized as a leading firm in the energy, technology and life sciences sectors. Throughout our 174-year history, we have provided creative and effective legal solutions for our clients while demonstrating an unrelenting commitment to excellence.