People in The News


< Back
Sarbanes Oxley : Auditing : Financial Close
BlackLine Systems Appoints New Chief Technology Officer
Leading cloud financial close software company continues executive team expansion with addition of Alain Avakian to oversee global technology direction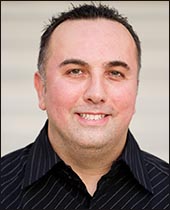 Alain Avakian
Chief Technology Officer
BlackLine Systems


Enterprise-class financial software company BlackLine Systems continues its investment in new executive talent with the hiring of Alain Avakian as Chief Technology Officer (CTO). Mr. Avakian is a seasoned software architect and strategist with extensive experience scaling technology organizations for dynamic, fast-growing Internet and e-commerce companies as they've grown to the point of public offerings and/or acquisition.
As CTO at BlackLine, Mr. Avakian will be responsible for the technology direction of BlackLine's flagship Software-as-a-Service (SaaS)-based account reconciliation and financial close suite as the company seeks to capitalize on the growing worldwide demand for solutions that drive greater efficiency, financial governance and risk management across the spectrum of financial operations.
"BlackLine's technology needs, both internal and external, have grown exponentially along with our client base. We've actually been searching for several years now for someone with that rare mix of exceptional interpersonal and management skills, as well as the technical knowledge and expertise to run a leading-edge technology organization – and we've finally found it in Alain," Therese Tucker, CEO, BlackLine Systems, said. "Alain has terrific skills from his experience at several growing Internet companies where he was instrumental in providing the technology vision, strategy and leadership to help the organizations scale from concept through public offerings, acquisitions and beyond."
Mr. Avakian joins BlackLine with 25 years of software engineering experience. As one of the first employees of Rent.com, he provided the technology leadership to take the company from a struggling start-up to an industry leader and innovator, finally serving as CTO from 2011 to 2014. During his 13-year tenure, he led the technology organization as the company navigated through two acquisitions (first by eBay in 2004 and later by TPG/RentPath).
Prior to Rent.com, Mr. Avakian was a Senior Architect and Senior Software Engineer at Stamps.com where he built the company's website under a very aggressive timeline, enabling a successful initial public offering (IPO) in 1999 and a second public offering later that same year. Similarly, at CitySearch/Ticketmaster, Mr. Avakian helped to build the technology stack for the early-stage company from the ground up, resulting in a successful acquisition and IPO in 1998. Mr. Avakian also has held several other senior software engineering positions with companies such as TCI/AND Interactive and Packard Bell.
Under Ms. Tucker's direction, BlackLine Systems revenues have increased more than 50 percent annually on a consistent basis and are on track to exceed that pace in 2014. In 2013, BlackLine partnered with Silver Lake Sumeru, the mid-market arm of leading technology-focused global private equity firm Silver Lake, to do a recapitalization of the company and drive its next phase of growth. The CTO appointment is one of several planned to round out the company's management team in an effort to strengthen and complement existing resources as the company continues to grow globally.
About BlackLine Systems
BlackLine Systems was the first to develop and offer a commercially available Balance Sheet Account Reconciliation solution. An experienced provider of software to companies from the Fortune 100 to beyond the Fortune 1,000, BlackLine provides quick-to-implement, scalable and easy-to-use applications that automate the entire financial close process to help improve financial controls for companies of all sizes. With more than 100,000 users in over 100 countries, BlackLine software applications complement existing Enterprise Performance Management (EPM), Governance Risk and Compliance (GRC) and Enterprise Resource Planning (ERP) systems.
Though ERP-agnostic, the BlackLine Financial Close Suite for SAP® Solutions is an SAP-endorsed business solution – joining the ranks of fewer than 40 other software offerings globally that are endorsed by the enterprise application software leader. BlackLine also is an SAP Gold Partner.
BlackLine offers clients its enterprise-class financial software in a simple and secure SaaS (Software-as-a-Service) platform. With a proven track record and a commitment to customer success, BlackLine seeks to reduce the burden the financial close places on accounting and finance professionals.
BlackLine headquarters are in Los Angeles, with offices in Atlanta, Chicago, London, Melbourne, New York City and Sydney to serve the company's growing global client base.