People in The News


< Back
Sarbanes Oxley : Law : Antitrust
Eric Berman Joins Venable in Washington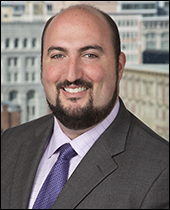 Eric Berman
Counsel
Venable


Venable LLP announced that experienced antitrust attorney Eric Berman, who has represented clients in major merger reviews and litigation as well as advertising and consumer protection claims before the Federal Trade Commission, has joined the firm as counsel in Washington, DC.
Mr. Berman arrives from Williams Mullen, where he served as a partner and chair of that firm's Antitrust & Trade Regulation practice.
Mr. Berman has handled all areas of antitrust issues, including representing companies before the FTC and the DOJ's Antitrust Division in merger reviews and counseling companies and associations on antitrust compliance issues.
He also focuses on consumer protection matters governed by the FTC, including working with companies in the home building and construction products, health, weight loss, dietary supplement and nutrition sectors. Mr. Berman has served as lead counsel for companies facing FTC advertising investigations; advised businesses on advertising issues such as claim interpretation, substantiation, and comparative advertising; and helped companies ensure compliance with FTC trade regulation rules, state laws and Better Business Bureau NAD and NARB decisions.
Among his notable matters, Mr. Berman has represented:
A national building/home materials seller in an FTC action involving insulation performance claims;
A marketer of nutrition products and dietary supplements before the FTC's Division of Advertising Practices;
A global mining company in the antitrust clearance of its proposed $19 billion merger with major competitor;
The largest inland barge company in the U.S. in the antitrust approval of its acquisition of rival towing assets;
A leading worldwide supplier of drilling products during the merger review of its $11 billion combination with a major oilfield services company;
A branded consumer goods company in its $3.7 billion purchase of a rival frozen pizza business;
A major consumer electronics company in price-fixing litigation brought by private plaintiffs and several state attorneys general;
A global packaging company in its $860 million spin-off and merger with a competing consumer and office products company;
A leading replacement window and door manufacturer during an FTC investigation of performance claims in the industry; and
A UK-based conglomerate in a lawsuit filed by FTC's Northwest Regional office involving debt collection activities.
At Venable, Mr. Berman joins one of the country's leading consumer protection practices, with particular strength in advertising and marketing law. The practice is headed by Jeffrey Knowles, one of the nation's leading advertising attorneys. Under Mr. Knowles' leadership, the firm's Advertising group has won the coveted Chambers USA Award for Excellence for two consecutive years; was named by U.S. News – Best Lawyers® "Best Law Firms" as its Advertising Law Firm of the Year in 2011-2012 and 2014; and is ranked in Tier 1 by Legal 500 in 2014.
Mr. Berman also adds antitrust strength to Venable's already-strong bench of competition lawyers. The antitrust group is led by practice chair Lisa Jose Fales and is at the forefront of the healthcare/antitrust intersection, often representing healthcare and pharmaceutical companies in high-stakes "reverse payment" litigation. Ms. Fales is recognized among the nation's leading healthcare antitrust lawyers.
"Our consumer, advertising and antitrust group are all going to actively compete for Eric Berman's time – his strengths in all three related areas of practice makes him a terrific addition to the firm," Ms. Fales said. "He is highly experienced in handling complex and contentious law enforcement investigations of corporate transactions, is a skilled litigator and also a veteran advisor to companies facing a gauntlet of regulatory or enforcement claims."
"We are delighted to have Eric join us," added Mr. Knowles. "His FTC experience and his energy will serve our clients well and will further cement Venable's position as a top-tier advertising and marketing practice. Eric's counsel will help ensure that our clients continue to receive the strongest representation on critical competition and consumer protection matters."
Mr. Berman commented, "Venable has long been known for its elite advertising and marketing practice – the firm represents many of the nation's leading merchants and branded consumer companies on sensitive matters, including best practices and staying out of the regulators' crosshairs. Venable has also developed a stellar competition platform in recent years, advising on litigation and transactional issues for businesses. Given the diverse nature of my work for clients, I am very pleased to be joining a firm with such a sophisticated and well-rounded foundation for antitrust and consumer protection."
Mr. Berman received his J.D. from the George Washington University Law School and his B.S. from Cornell University.
Venable is an American Lawyer Global 100 law firm serving clients globally. Headquartered in Washington, DC, with offices in California, Delaware, Maryland, New York and Virginia, Venable LLP lawyers and legislative advisors serve the needs of our domestic and global clients in all areas of corporate and business law, complex litigation, intellectual property, regulatory, and government affairs around the globe.