People in The News


< Back
Sarbanes Oxley : Finance
Dolinar to Chair AICPA Committee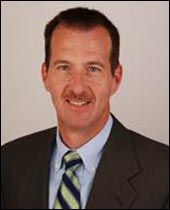 Jim Dolinar
Managing Partner, Assurance Professional Practice
Crowe Horwath


The American Institute of CPAs (AICPA) has named Jim Dolinar, CPA chairman of the Financial Reporting Executive Committee (FinREC).
Dolinar, 55, is managing partner of the Assurance Professional Practice, national office of Crowe Horwath LLP, Chicago, Ill. As chairman, he will head one of the Institute's most important volunteer bodies. It serves as the AICPA's official voice on financial reporting matters and develops industry-specific accounting guidance. The committee's membership includes representation from business and industry, public practice and academia.
"Jim brings valuable skills to FinREC. His experience includes quality control functions such as matters related to accounting, auditing, ethics, independence, inspections and monitoring as well as practice matters related to the Securities and Exchange Commission (SEC) and other regulatory bodies," said Richard Paul, FinREC's current chair and a partner at Deloitte & Touche LLP. "FinREC will benefit from his wealth of knowledge and leadership."
Dolinar will succeed Paul at the committee's November meeting.
Dolinar currently serves as the vice-chair on the Center for Audit Quality's (CAQ) Professional Practice Executive Committee (PPEC) and is also a member of the CAQ's Research Advisory Board (RAB).
In his role at Crowe Horwath his responsibilities include but are not limited to the oversight of the annual Public Company Accounting Oversight Board (PCAOB) inspection of Crowe's public company audit practice, internal monitoring of audit quality, periodic inspections from regulators, the pre-issuance review process of annual and interim reports, and the professional standards consultation process.
Dolinar holds a Bachelor of Science in Accounting from Northern Illinois University, DeKalb, Illinois.
About the AICPA
The American Institute of CPAs (AICPA) is the world's largest member association representing the accounting profession, with more than 400,000 members in 128 countries, and a history of serving the public interest since 1877. AICPA members represent many areas of practice, including business and industry, public practice, government, education and consulting.
The AICPA sets ethical standards for the profession and U.S. auditing standards for private companies, nonprofit organizations, federal, state and local governments. It develops and grades the Uniform CPA Examination, and offers specialty credentials for CPAs who concentrate on personal financial planning; forensic accounting; business valuation; and information management and technology assurance. Through a joint venture with the Chartered Institute of Management Accountants (CIMA), it has established the Chartered Global Management Accountant (CGMA) designation which sets a new standard for global recognition of management accounting.
The AICPA maintains offices in New York, Washington, DC, Durham, NC, and Ewing, NJ.