Editor's Bookshelf
XBRL for Dummies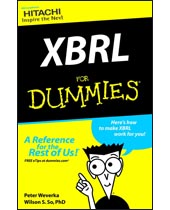 With the recent mandate by the Securities and Exchange Commission regarding the application of XBRL, knowing how to use this business reporting language is now a primary business imperative.
More Bookshelf > >


Exploring Strong Investor Confidence in U.S. Stock Exchanges
Cindy Fornelli
Executive Director
Center for Audit Quality





According to a new "pulse poll " from the Center for Audit Quality (CAQ), data security, regulatory oversight, and longevity are the most important factors behind rising investor confidence levels in U.S. stock exchanges.

The Unpaid Summer Intern that Could Cost You Millions
Christopher Zannetos
President and CEO
Courion

Courion recommends now that Labor Day has come and gone, companies take a close look at a common access risk factor that may be leaving them vulnerable to a data breach: abandoned accounts.



Success Story
Food Retailer Eradicates Manual Spreadsheets

Trintech, a leading global provider of integrated software solutions for the Last Mile of Finance, has released this case study illustrating how international food retailer Delhaize Group has implemented its AssureNET GL software for financial process compliance.

More Success Stories > >