Editor's Bookshelf
XBRL for Dummies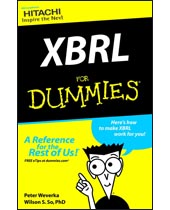 With the recent mandate by the Securities and Exchange Commission regarding the application of XBRL, knowing how to use this business reporting language is now a primary business imperative.
More Bookshelf > >


Stem the Onslaught of System Wide Attacks
Mark Bower
Vice President of Product Management
Voltage Security





"By introducing this service, American Express confirms that contemporary data-centric security approaches are necessary to stem the onslaught of system-wide attacks..."

Are You Still Auditing in Excel?
Dan Zitting
VP Product Management and Design
ACL Services

Whether an organization has invested in audit and compliance technology or not, auditors and compliance professionals often end up working in Excel, even though it does not offer optimal functionality for the type of work they do.

People in the News
Andrew Serwin Joins Board of National Cyber-Forensics and Training Alliance

Andrew Serwin
Global Privacy and Data Security Practice Group Partner
Morrison & Foerster
Morrison & Foerster Global Privacy and Data Security partner Andrew Serwin has been named to the board of directors of the National Cyber-Forensics and Training Alliance, a U.S.-based organization that works with government, private industry, academia, and law enforcement to study, counteract, and prevent cybercrime.

More People in the News > >


Success Story
Banco Volkswagen Adopts SAS Credit Platform

SAS is Bank Volkswagen's new supplier for operations support solutions. Volkswagen Financial Services AG´s Brazilian subsidiary will adopt SAS Real-Time Decision Manager and SAS Enterprise GRC Support in an effort to improve credit policy enforcement, workflow analysis and credit disbursement.

More Success Stories > >