Editor's Bookshelf
XBRL for Dummies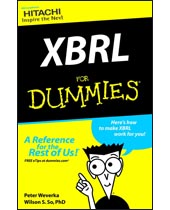 With the recent mandate by the Securities and Exchange Commission regarding the application of XBRL, knowing how to use this business reporting language is now a primary business imperative.
More Bookshelf > >


Datapipe Revolutionizes ToolBank Tool Tracking
Robb Allen
CEO
Datapipe





Datapipe, a global provider of managed hosting and cloud services, has announced that their managed services platform is providing ToolBank USA with an enhanced ability to track and monitor tool inventory when responding to natural disasters.

Spreadsheet Errors That Make Auditors Blush
Susan Parcells
Director of Finance Transformation
BlackLine Systems

We've heard about spreadsheet errors costing companies millions and even billions of dollars, but have we actually considered our own potential risks? Sadly, many of these errors were due to simple mistakes such as the cut and paste error which cost TransAlta an estimated $24 million.



Success Story
Banco Volkswagen Adopts SAS Credit Platform

SAS is Bank Volkswagen's new supplier for operations support solutions. Volkswagen Financial Services AG´s Brazilian subsidiary will adopt SAS Real-Time Decision Manager and SAS Enterprise GRC Support in an effort to improve credit policy enforcement, workflow analysis and credit disbursement.

More Success Stories > >