Editor's Bookshelf
XBRL for Dummies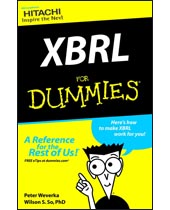 With the recent mandate by the Securities and Exchange Commission regarding the application of XBRL, knowing how to use this business reporting language is now a primary business imperative.
More Bookshelf > >


Enhance Security in Virtualized Cloud Environments
Eric Chiu
Founder & President
HyTrust





HyTrust Inc., the Cloud Security Automation Company, has announced that, building on technologies from Intel Corporation, it has developed powerful new capabilities to secure applications and data in virtualized data centers and the cloud.

The Unpaid Summer Intern that Could Cost You Millions
Christopher Zannetos
President and CEO
Courion

Courion recommends now that Labor Day has come and gone, companies take a close look at a common access risk factor that may be leaving them vulnerable to a data breach: abandoned accounts.



Success Story
Banco Volkswagen Adopts SAS Credit Platform

SAS is Bank Volkswagen's new supplier for operations support solutions. Volkswagen Financial Services AG´s Brazilian subsidiary will adopt SAS Real-Time Decision Manager and SAS Enterprise GRC Support in an effort to improve credit policy enforcement, workflow analysis and credit disbursement.

More Success Stories > >