Editor's Bookshelf
XBRL for Dummies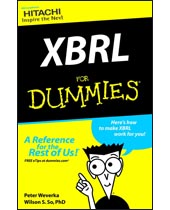 With the recent mandate by the Securities and Exchange Commission regarding the application of XBRL, knowing how to use this business reporting language is now a primary business imperative.
More Bookshelf > >


Sharing Cybersecurity Strategies
Tony Hayes
President
ISACA and the IT Governance Institute





Effective cybersecurity defense requires an overall enterprise strategy with consistent controls and checks and balances. The components of an effective cybersecurity program will be discussed at the upcoming ISACA's North America Computer Audit, Control and Security (CACS) conference.

How to Invest in Technology that Drives Innovation
Louis Takacs
Strategic Director, Products and Services
ComSci

For any business to be successful, it needs to be built upon a solid technological foundation with tools and processes that enable employees to communicate and perform their jobs effectively.



Success Story
Food Retailer Eradicates Manual Spreadsheets

Trintech, a leading global provider of integrated software solutions for the Last Mile of Finance, has released this case study illustrating how international food retailer Delhaize Group has implemented its AssureNET GL software for financial process compliance.