Editor's Bookshelf
XBRL for Dummies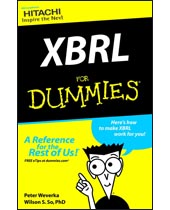 With the recent mandate by the Securities and Exchange Commission regarding the application of XBRL, knowing how to use this business reporting language is now a primary business imperative.
More Bookshelf > >



How CIOs Can Drive Innovation
Christian Hagen
Partner, Strategic Information Technology
A.T. Kearney

Our most recent research on IT innovation yielded some telling results. On average, a scant 14 percent of IT budgets were earmarked for innovation, and only 23 percent of organizations in our study report very positive results from their IT innovation efforts.



Success Story
Banco Volkswagen Adopts SAS Credit Platform

SAS is Bank Volkswagen's new supplier for operations support solutions. Volkswagen Financial Services AG´s Brazilian subsidiary will adopt SAS Real-Time Decision Manager and SAS Enterprise GRC Support in an effort to improve credit policy enforcement, workflow analysis and credit disbursement.

More Success Stories > >