Editor's Bookshelf
XBRL for Dummies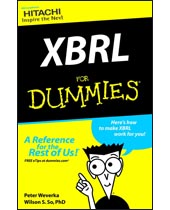 With the recent mandate by the Securities and Exchange Commission regarding the application of XBRL, knowing how to use this business reporting language is now a primary business imperative.
More Bookshelf > >


Now Is the Time for Secure DNS
Arya Barirani
Vice President of Product Marketing
Infoblox





The Domain Name System (DNS) is critical network infrastructure; without DNS the Internet can't function. This universal need for DNS hasn't escaped the notice of cybercriminals, and today DNS attacks are one of the fastest-growing threat vectors.

Are You Still Auditing in Excel?
Dan Zitting
VP Product Management and Design
ACL Services

Whether an organization has invested in audit and compliance technology or not, auditors and compliance professionals often end up working in Excel, even though it does not offer optimal functionality for the type of work they do.



Success Story
Food Retailer Eradicates Manual Spreadsheets

Trintech, a leading global provider of integrated software solutions for the Last Mile of Finance, has released this case study illustrating how international food retailer Delhaize Group has implemented its AssureNET GL software for financial process compliance.

More Success Stories > >